BTG Events
Garba Dandiya Night
8 October 2016
Independence Day Celebrations
21 August 2016
Indian Colour Festival - Holi
3 April 2016
Bridging the Gap Foundation and the City of Amstelveen proudly present "Indian Colour Festival – Holi" on April 3rd 2016 from 12:00 – 17:30 at the Stadsplein in Amstelveen. You can't miss the celebrations as there will be a large glass tent put up where we encourage everyone to come by and play some Holi.

Holi is the spring festival in India which is celebrated by throwing and putting coloured powder on one another. Holi signifies the arrival of spring and the end of winter.

The festival will be divided into slots to ensure that everyone gets a chance to enjoy the festival so we encourage you to come on time to make the most of the celebrations.
12:00 – 13:30 | 14:00 – 15:30 | 16:00 – 17:00
There will be food trucks from Tasty Indian Bites, Veggiesaurus and Sate Brothers around the tent! There will be plenty of food and beverages to enjoy when you need a break from playing or just want to enjoy the sun!
Prizes are to be won through a lucky draw thanks to: Ranj & Sharan Photography and Jet Airways. The more bags of coloured powder you buy, the higher the chance of winning a prize!
Just some rules and guidelines to keep in mind:
No food or drinks inside the tent.
Children above 4 years are allowed.
Entrance is free however, it is mandatory to buy packet of colour from us at the entrance. If you want to just see the atmosphere, you can do that by standing outside.
You cannot bring your own coloured powder. Only coloured powder being sold at the festival can be used for health and safety reasons.
In the spirit of the festival and the celebration, everyone who enters the tent will need to purchase one packet of coloured powder.
No deodrant cans allowed in the tent.
(LIMITED) Lockers are available outside the tent to store your belongings.
Colour is NOT allowed to be played outside the tent. Doing so will rent in a fine from the local authorities.
We advise you to wear white clothes to see the colour better.
DO NOT WEAR your best outfit as they will get dirty.
The coloured powder is washable but there is a small chance that it could leave a stain.
Ponchos are available to purchase for 2Euros each.
Mouth caps are available for all.
This event is not suitable for people who suffer from asthma.
You are taking part in the Indian Colour Festival at your own risk. The festival is not responsibile for any loss or damages.
Republic Day Celebrations
January 2016
Independence Day Celebrations
15 August 2015
"History matters. I'm not saying we shouldn't move forward, but I do think an accurate acknowledgement of what really happened is necessary to build any kind of meaningful relationship for the future. And to impress upon future generations the importance of working for Peace." - Uday Mehra
On 15th of August, Bridging the Gap Foundation celebrated India's 69th Independence Day. We celebrated the diversity of India which infacts unites the country together. Due to the country's rich diversity this has resulted in a beautiful history, culture, unity and future.
When Indians move out of India, they strive to integrate into their new environment however, sometimes struggle to hold on to their roots and more importantly teach their children about the culture they come from.
Throughout the years, BTG has not only hosted successful events but has also helped 100s of families and individuals to settle the Netherlands. Our core philosophy is to help make life in the Netherlands the home away from home. We have brought many people together which has helped create a fantastic community where people now freely reach out to one another and other organizations have grown. We are happy to see the community blossom and grow.
As the years have grown by, we had have the privilege of seeing many children of the community grow up and have been honoured to have them perform at our events time and time again. It's matter of great pride for us to see these children build confidence but also see them connect and learn about their heritage.
We would like to thank EVERYONE that has blessed us by being part of any of the celebrations hosted by us. Special thanks go to the talents out there in the community for so happily coming and participating on stage or volunteering their time. Thank you to all the parents that go through all the effort to practice with their children for their moment on stage. KALLOL partnered up with us for this event and we were happy to have their members at our event and also their talented performers on stage
Like we say every year, we are truly humbled by the support we receive by the community and really only do it for you.
Thank you to all our sponsors for the Independence Day Celebrations! Without you, there would be no celebration.
Bollywood Dhamakha: GLOW IN THE DARK
30 May 2015
Thank you to everyone who attended Bollywood Dhamkaha on 30th of May. The event was totally sold out ande everyone looked great in their white/neon outfits and most definatly stood out. It was great seeing familiar faces and lots of new ones too! Thanks for the support everyone!
Picures are now on our facebook page: www.facebook.com/btgfoundation
Republic Day Celebrations
25 January 2015
On the 25th of January, Bridging the Gap Foundation celebrated India's Republic Day. It was a huge success and were honored to have both the Deputy Mayor of Amstelveen and Mrs. Chirsta de Kemp witness the diversity of India.
We would also like to take the opportunity to thank all the people who performed on this day - children and adults! It was great witnessing the children come on stage with great confidence and an even greater pleasure as we have seen them grow up. Looking forward to seeing them blossom in their many talents.Thanks to our photographer Annam Ahmed and our DJ Rocky Singh. For pictures of the celebrations please visit out facebook page: www.facebook.com/btgfoundation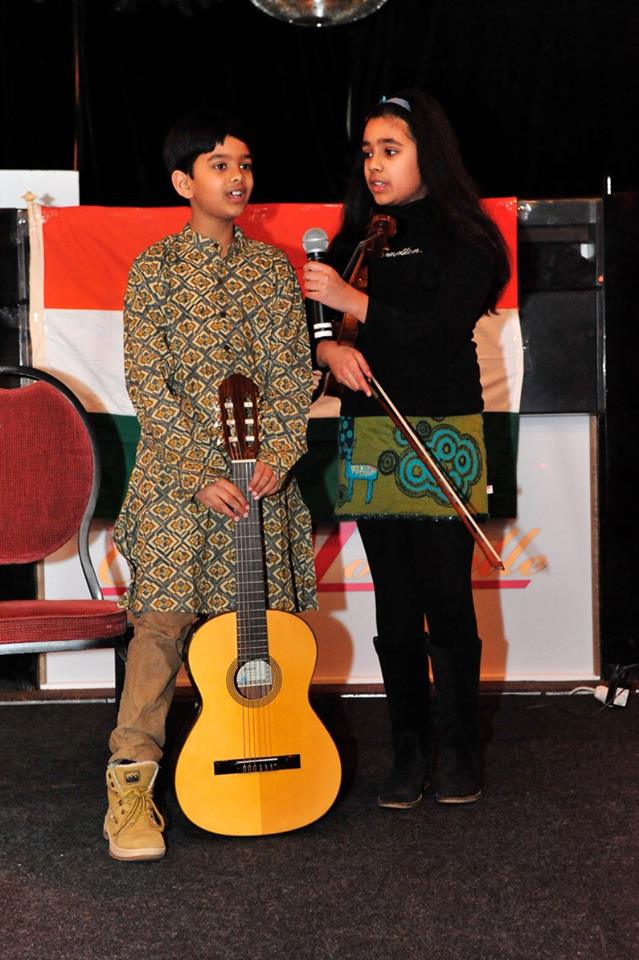 Upcoming festivals
View all